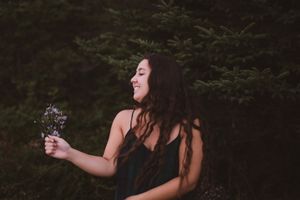 "Katherine Fischer's unique folk confessionals are the medicine for when our hearts get sick, served with an eccentric dose of sugar to help it all go down."
Like a re-discovered diary entry on your worst day, Katherine Fischer wants you to feel understood. With over 200 songs in her arsenal and counting, she hopes to be your tour guide through the darkest corners to the brightest balcony of her human experience.  
"These songs are here to hold you and remind you - that all that you are is enough, you are enough." - Katherine Fischer 
Hailing from London Ontario, Katherine Fischer writes songs for souls with big feelings. Katherine's debut full length  album "Great Loves" was released November 2022, and has garnered over 100,000 streams and 10,000+ listeners worldwide. Songs off of Great Loves have been added to multiple editorial playlists including "Today's Singer-songwriters" (YouTube) "Renegade Folk" (Spotify) and "Folk & Friends" (Spotify). "Great Loves' " blends Americana, indie pop, cinematic strings and harmonies that wrap around you to create a breathtaking folk album. Great Loves is the story of all encapsulating love, of the land, of people, of yourself.  Her latest single "Last One Gone" was released June 2023. 
 In August 2016 Katherine released her debut EP "Here I Am" followed by her sophomore release "Wildflower Heart" in 2019.  Her songs share folky heart led narratives that rival your favourite coming of age novel. Katherine's song "I Choose You" was included on Amazon's "Best of 2020: Folk" playlist alongside Kathleen Edwards and John Prine. In 2021 her single "Memories" was released and placed on Spotify's "New Music Friday" and most recently her songs "The Current" and "Explain It" were added to Spotify's "Folk and Friends" playlist. 
From coast to coast Katherine has played over 250 shows from festival performances at Winnipeg Folk Festival and main stage at Home County Music and Art Festival to living rooms with SOFAR Sounds. To see her play, is to know her story and end the night as if parting from an old friend. Come to listen, stay to connect and, if anything, know that Katherine Fischer's songs are her gift to you.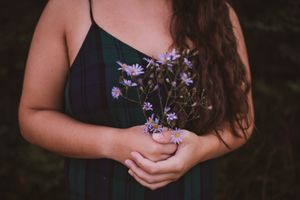 Her songs weave the tellings of an empath soul, with radiant vocals, windblown guitar and a pop sensibility grounded in truth.